600MHz wireless microphone rebate extended!
Is your wireless microphone gear operating in the legal part of the RF Spectrum? Between now and July 2020, any wireless microphone operating between 614-698 MHz will have to be removed from service. See the FCC information page here.
Have you taken full advantage of Shure rebate offers yet? It is not too late! Shure is excited to extend its 600MHz wireless rebate program through October 31, 2018. This quick and easy trade-in program helps you bring all of your inventory into the legal operating range and saves you money while doing so. Save up to $500 per channel on new wireless systems!
If we can answer questions about the 600MHz transition and how it affects you, please call us at 800-747-7301.
1992 called and it wants its rack panel back!
Until just this year, we've been limited to offering engraved rack panels with basic logos, and text file type layouts. If it looked good in Ariel and with a 2D logo, we could do it.
Let this be your rack panel -- with color and image-based layouts.
We've teamed up with a speciality printer and engraver to offer you something fun and different as you're building your racks.
The only limit to what we can do for you is your imagination.
Call us about custom color rack panels today!
Is your projector draining your tech budget?
Time. Money. Focus. If your projector requires lamp replacement, maintenance or repairs, it is draining you of resources you could be using to engage your congregation. Worship Facilities Magazine estimates that the typical projector used in Houses of Worship costs as much as $7,000 in bulbs, maintenance and equipment failure over its lifespan.
With a dust-free, lamp-free design, new laser projectors from Panasonic offer 20,000 hours of virtually maintenance-free operation. Plus, they feature high brightness and contrast for optimal daylight viewing.
This line-up starts at just $3699 for 5000 lumens. One of the largest theme park chains in the world uses exclusively Panasonic laser projectors and the nation's largest restaurant chain dedicated to chicken wings has chosen the PT-RZ570 series as its standard for its corporate stores. See the full line-up here.
Don't sweat lamp failure, air filter warning messages, lift/scaffolding rental, and time. Give your congregation all of the attention it deserves, and give up projector maintenance for good.
Make your wireless systems perform more reliably.
With the increasing challenges posed by FCC TV channel reassignment, the 600 MHz cell phone service rollout, and the increase of LED stage lighting and LED walls, wireless mic and IEM users will need to squeeze out every last drop of system performance to ensure reliable, drop free performance. This article will try to explain how out-of-band interference can jeopardize the performance of your wireless systems and what you can do to minimize it.
What is out-of-band interference?
Basically it is every signal picked up by your antenna that is not the signal from your intended transmitter. In other words it is stray RF interference, be it electrical motor noise, hash from your lighting and projection systems, assisted-listening system, security radios, comms and your other wireless mics and IEMs.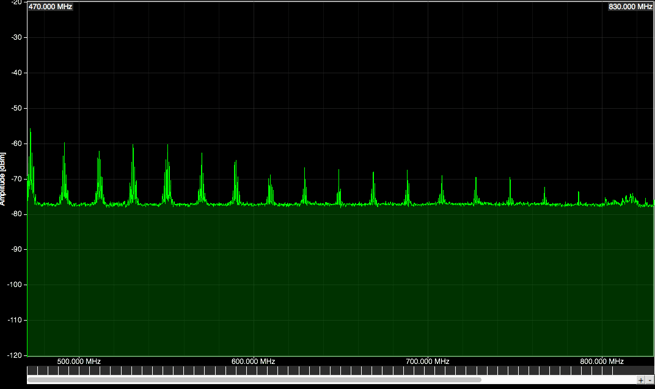 LED Wall Interference
Very soon it will also include an audience with new 600 MHz cell phones in their pockets and maybe signals from Microsoft Whitespace devices. Antennas aren't smart and simply shove every signal they receive into the front end of your receiver which directly affects the noise floor which you are trying to overcome. The interference from a high noise floor is likely the single largest external factor affecting the range of your wireless mics.
For your receiver to understand a signal it must be strong enough to overcome the background noise floor.
Read more: Make your wireless systems perform more reliably.
Page 1 of 39
What others say
I had consulted with some of the AVL Integrators whose ads had crossed my email/online path. The scope they were used to, including the cost, kept me searching. I talked with some integrators who wanted thousands (tens of thousands in some cases) of dollars to produce the initial design for our upgrades, and then would start the search for bids on that design. I kept searching. I was looking for someone who would be able to work with a church our size (1,000-1,200 in attendance per weekend total in 4 services), brainstorm with me on a design plan, and then walk through the priorities/cost maze that would likely present itself.
Then I remembered a voicemail I had received from Dave Horn of Truth Seeker Productions. When I listened to his voicemail, and then found out through other means that he had done significant work with a sister church of ours in Columbus, I had the feeling...that's right...the feeling that this was the guy to help us. So I called him, we met, and the path forward that he suggested was a very comfortable one for me, and the rest is history.
We are very satisfied with the projection upgrades in our worship center and fireside room (a total of 7 laser projectors), the larger, 16 X 9 screens everywhere, motorized screens where necessary, installation of 2 Allen & Heath digital audio consoles, upgraded LED lighting and controller, and a state of the art video control and routing system, allowing us to utilize IMag and live streaming.
Dave Horn and the Team at Truth Seeker are knowledgeable and up to date about all things AVL; good listeners, strategists, installers, and trainers. And, great service, even after the final check was paid!
They know how to work with Houses of Worship, "budgets," and how to help you make tough decisions. You'll be glad you contracted with them. We are!
Building Generations for Jesus Christ,
Pastor Brad Pilkington, Spring Hills Baptist Church