Do you believe in coincidence?
At the risk of sounding overdramatic, I don't, and I'm never surprised at the way things work out.
A couple years ago, we got an email from the Ohio sales representative for Electro-voice. He wanted to know if we wanted to buy about 20 discontinued speakers for really deep discount. If no one bought them, they were going into the crusher, literally.
The challenge was that there were one or two of this and that, and four of another, and just one of several. I asked the sales rep we wouldn't want them, and his response was "Exactly!" So we ordered all of them.
The short story is that all but one of those speakers found a home, and we were able to provide them at as much as 90% off regular prices. And I wasn't surprised a bit.
Well. Lighting must strike twice. Toward the end of 2014, the EV rep emailed again. In an email to all of its dealers, the company announced that it was moving warehouses and that it would be liquidating a large portion of its inventory, first come, first served.
Right away, we bought some speakers that we knew we could sell. A couple weeks later, we got another email asking us to "make an offer", so we offered and were able to buy some more at lower prices. Another week or so later, the final list came out. The accompanying message was that anything that was left would either be moved or crushed, and it requested final offers. So we offered lower again.
We've sold some of the half semi-truck that we received and we still have what's listed below. At up to 80% off, I believe that we have exactly what some of you need to finish a project at your budget. We have several of the ETX powered loudspeakers which are the best we've heard in the price range. Other manufacturers may not like that we've proclaimed that, but none have stepped forward for a shootout. We have touring grade monitors for about 80% off, assistive listening transmitters for $199 and more. Click the link below.
Five Things Every Audio Pro Should Know How to Do
by Alex Milne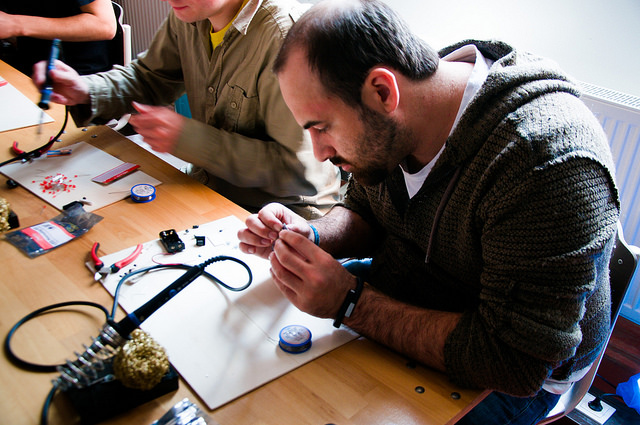 These five common concepts and skills separate the skilled audio professional from the beginner.
In our opinion, they are essential to a full understanding and mastery of audio systems.
They are evenly divided between simple overarching concepts that can be applied to any project, and practical skills that can be used to save time and money, or engineer elegant solutions to problems that emerge in the field.
1. How to coil cables right.
Many types of audio-visual cables contain twisted wires inside a sheath. This gives them a natural coil that can easily be disturbed by improper coiling. The wires become tangled inside the sheath, and the natural coil ruined, shortening the cable's life. Other types of cable, like coaxial cable, have no natural coil. They still benefit from proper handling, which avoids knots, tangles, and crushed insulators.
The right way to coil a cable is by using the "over-under" method, which is better shown than explained. This video from the London School of Sound does an excellent job showing how to coil cables using the over-under technique.
2. How to build cables from scratch.
Many audio cable connector schemes follow a basic blueprint: positive, negative, ground. If you know how to strip and make a connection from raw cable, you can build cables to custom lengths and salvage good portions of damaged cable - which is incredibly useful. Although the specific procedure for soldering a connector varies by type, a soldering station (iron, sponge, solder, helping hands), box cutter, and pliers with wire snips are often all that is required to solder the more common types, like XLR, ¼", and 3.5mm, during an emergency repair.
For best results, and to avoid damaging equipment...
Read more: Five Things Every Audio Pro Should Know How to Do
Five Wireless Microphone Mistakes That Are as Common as They Are Avoidable
by Alex Milne
They've happened to the best of us. After paging through stacks of manuals, phoning and perhaps yelling at manufacturer technical support lines, and checking and re-checking dozens of options on menu screens, we discover the cause of our wireless microphone malfunction is something so breathtaking simply, so glaringly obvious, that we can't believe we didn't think of it in the first place.
The following five mistakes are blunders shared by inexperienced and experienced audio pros alike. Do not be ashamed.
1. Dead Battery
The lifeblood of the wireless microphone transmitter, the battery, is a fickle creature.
The useable life of a battery is influenced by a number of factors, which makes it hard to pin down just how many hours you'll get out of a microphone. The type of battery in use, the brand, the temperature, and - the oft-ignored curveball - the transmitter power (20 mW vs 50 mW, etc), can all dramatically change how long your handheld perseveres.
Some people play the russian roulette game of guessing how much juice they've got left on a case by case basis. Others invest in a battery tester or multimeter. The most paranoid users (and the wisest) don't let a mic go up on stage without fresh batteries. This results in a lot of half-used batteries that go in the battery recycling bin, but it is a heck of a lot better than a mic going dead. You can purchase batteries by the case from your favorite audiovisual retailer. If you do any kind of mission critical work, we encourage you to do the same.
Read more: Five Wireless Microphone Mistakes That Are as Common as They Are Avoidable
17 seconds to better audio
Listen to for 17 seconds to hear the difference that 17% can make.
Problem: The main worship facility at South Delta Baptist Church of Delta, British Columbia seats approximately 1600 people with both main floor and in the upper balcony. Due to a 4 second reverb/decay time, a large percentage of the congregation was challenged in hearing the message due to a lack of vocal intelligibility - caused by excessive reverberation and echo.
Solution: Primacoustic Broadway panels were placed on only 17% of the wall surface and spread evenly throughout the sanctuary. Since the style of worship incorporates amplified instruments, careful attention was paid to the stage area to control reflections from vocal monitors, guitar amplifiers and drums.
As a result, reverberation was decreased from 4 seconds to just over 1 second, greatly improving intelligibility and enhancing the worship experience for everyone.
If you'd like to talk about acoustic solutions for your worship space, please get in touch with us. We would be glad to create a custom solution for you.
Page 10 of 43
What others say
Dave,

All the shipments came yesterday! I just want to say how impressed I have been of your customer service. It has been great working with you and I plan to continue buying from you in the future and will recommend you to any church looking to buy equipment.

As always thanks for your time,

Steven Teters